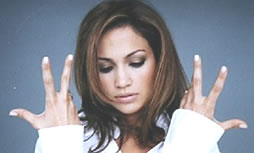 July 24.70 in The Bronx, New York City, New York, USA
Father : David - Computer Operations Specialist.
Mother : Guadalupe - Kindergarten Teacher
Two sisters Maria and Leslie
Single - Married Ojani Noa on 2/2/1997 and was divorced one year later
Brunette / Brown
Height 5' 6"
At 16 Jennifer appeared in "My Little Girl" with starring Mary Stuart Masterson. After graduating from Preston High School in 1987 she attended one semester at Baruch College in New York City. After a 1 1/2 years of studying dance at a dance school in Manhattan and one unsuccessful attempt she landed a part on In Living Color as a "Fly Girl". Her first television job as an actress was on the Fox series "South Central". This was followed by a parts as "Melinda Lopez" in "Second Chances" series, then "Hotel Malibu."
In 1995 she landed her first major role, playing alongside Wesley Snipes and Woody Harrelson in "Money Train." But her break came when she was chosen to play Selena Quintanilla Perez, in the official biography of the life of the fallen Tejano star. Her part as Karen Sisco in 1998's "Out Of Sight" with George Clooney, Made her the highest paying Latina actress in history.
Her first single, "If You Had My Love" went platinum.
C/O Handprint Entertainment
8436 W 3rd St
Los Angeles CA 90048